Naveen Khanna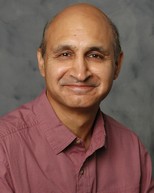 Click on the image to view a larger or high-resolution version.
Stock market, global markets, executive compensation and commercial finance
Professor, Pasant Endowed Chair of Finance
Expertise:
An expert on the stock market, global markets, mergers and acquisitions, insider trading and short selling. Khanna actively publishes in top finance and economics journals including the Journal of Economic Theory, Rand Journal of Economics, Journal of Finance, Review of Financial Studies and Journal of Financial Economics. He is frequently invited to present his research at top universities around the country.