Natalie Moser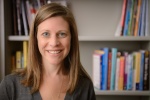 Click on the image to view a larger or high-resolution version.
Pediatric psychology, parenting, bullying, child anxiety and mental health
Director
MSU Psychological Clinic
College of Social Science
Contact at: (517) 355-9564 or mosern@msu.edu
Expertise:
A licensed psychologist, Moser directs the MSU Psychological Clinic, which offers therapy, parent training, motivational assessment, IQ testing and other services to students and the public. Moser is an expert on the assessment and cognitive-behavioral treatment of child anxiety and the psychological problems affecting children with chronic illness, as well as bullying, parenting and toileting.