Mohammed Ayoob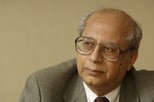 Click on the image to view a larger or high-resolution version.
International Relations, Middle East and Muslim issues
University Distinguished Professor emeritus of international relations
Department of Political Science
James Madison College; College of Social Science
Contact at: (517) 353-3538 or ayoob@msu.edu
Expertise:
Expert on conflict and security in the Third World, with focus on South Asia, Middle East, Persian Gulf and Southeast Asia. Also: the intersection of religion and politics in the Muslim world.