Mike Hamm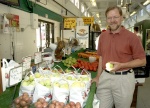 Click on the image to view a larger or high-resolution version.
C. S. Mott chair in sustainable agriculture
Communities, Agriculture, Recreation and Resource Studies
College of Agriculture and Natural Resources
Contact at: O: (517) 432-1611, C: (517) 604-0148 or mhamm@msu.edu
Expertise:
Community-based food systems, food security, sustainable agriculture and nutrition education.
Additional information:
Hamm is an expert in Title IV and nutrition.