Meredith Gore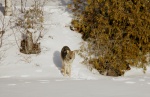 Click on the image to view a larger or high-resolution version.
Wolves and human-wildlife conflict
Associate professor of fisheries and wildlife
Fisheries and Wildlife/School of Criminal Justice
College of Agriculture and Natural Resources
Contact at: (517) 432-8203 or gorem@msu.edu
Expertise:
Meredith Gore's formal training is in the human dimensions of wildlife management and environment and resource policy. Her research interests focus on public perceptions of wildlife and environmental risk, human-wildlife conflict, community-based natural resource management, human dimensions of natural resource management, conservation criminology and program evaluation. Gore helps lead a Michigan wolf survey, which addresses how the state could manage its wolf population now that wolves have been removed from the federal endangered species list. She also is helping facilitate MDNR's public meetings collecting input on the issue.