Megan Donahue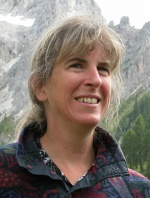 Click on the image to view a larger or high-resolution version.
Galaxies, stars and galaxy formation
Professor
Department of Physics and Astronomy
College of Natural Science
Contact at: (517) 884-5618 or donahu42@msu.edu
Expertise:
Donahue is an expert on galaxies and distant clusters of galaxies, work that tells much about the matter density of the universe, as well as providing clues as to how the universe came to be. She also studies the metallicity, distribution and physics of intergalactic gas.