Matthew Grieshop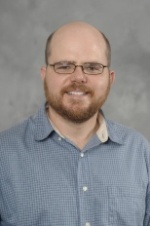 Click on the image to view a larger or high-resolution version.
Insects, mosquitos and agricultural pests
Assistant professor of entomology
Entomology
Agriculture and Natural Resources
Contact at: (517) 432-8034 or grieshop@msu.edu
Expertise:
Grieshop recently received nearly $46,000 from the USDA to create a proposal on the development and delivery of organic pest management for the brown marmorated stink bug with minimal environmental impact. BMSB has caused significant damage to crops in other states including New Jersey, West Virginia, Virginia, Maryland and Pennsylvania. Grieshop, also an AgBioResearch scientist, will identify primary BMSB issues for organic farmers and establish online resources for farmers and researchers. He plans to work with organic farmers and researchers in 14 states.