Matt Grossmann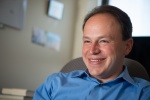 Click on the image to view a larger or high-resolution version.
Elections, political campaigns, public opinion and policy issues
Associate professor of political science; director of the Institute for Public Policy and Social Research
Department of Political Science; IPPSR
College of Social Science
Contact at: (517) 355-6672 or matt@mattg.org
Expertise:
An expert on state and national elections, interest groups and lobbying; campaign consultants; factions within the political parties; negative advertising; regulation of Internet campaigning; third parties and the two-party system; information technology policy debates; media bias in coverage of politics; and congressional hearings. He also directs the student-run Michigan Policy Network, which examines state policy issues. For more political and economic experts, cut and paste this link: http://go.msu.edu/myy
Additional information:
In "Artists of the Possible: Governing Networks and American Policy Change Since 1945," Grossmann argues the president, Congress and Supreme Court have failed to respond to popular opinion when passing laws or issuing executive orders and decisions.