Mark Largent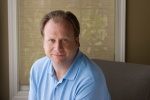 Click on the image to view a larger or high-resolution version.
Evolution, vaccinations, vaccine debate (autism, measles, etc.), Darwinism, history of science, technology and medicine
Associate professor and director of the Science, Technology, Environment and Public Policy Specialization (STEPPS); associate dean at Lyman Briggs College
Expertise:
Largent is an historian of science, technology and medicine. His research and teaching focuses on the role of scientists and physicians in American public policy. He has written on the evolution-creation debate, the professionalization of American biology, Darwinism, the history of the American eugenics movement and recent debates over compulsory vaccinations.
Additional information:
Largent's latest book is "Vaccine: The Debate in Modern America."