Margaret Aguwa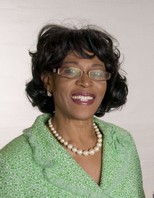 Click on the image to view a larger or high-resolution version.
Breast cancer, breast cancer education and medical education
Professor of family and community medicine
Department of Family and Community Medicine
College of Osteopathic Medicine
Contact at: (517) 353-4497 or Aguwa@msu.edu
Expertise:
A breast cancer survivor, Aguwa is also a practicing physician who can discuss just about any facet of the disease. She is particularly interested in women taking control of their own health and works hard to educate medical students and physicians on the importance of encouraging patients to do regular breast self-examinations. One of her many accomplishments is the production of a video – "Breast Self-Examination: A Touch of Life" – that has been extensively used by medical students, physicians and patients. She also was the driving force behind a program called OsteoCHAMPS which encourages disadvantaged teens to consider health careers.