Lisa Cook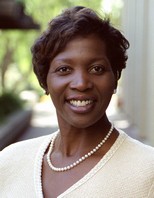 Click on the image to view a larger or high-resolution version.
U.S. economy and markets, Detroit, global markets, euro zone, innovation and intellectual property and developing economies
Associate professor of economics and international relations
Department of Economics
College of Social Science; James Madison College
Contact at: (517) 432-7106 or lisacook@msu.edu
Expertise:
An expert on Detroit's outlook, the U.S. economy, international economics and the euro zone. Cook spent 2011-12 serving on President Barack Obama's Council of Economic Advisers, focusing on issues related to international economics and science.
Additional information:
Cook also served as:
* A team leader for the Obama presidential transition team (working on economics and international trade) from November 2008 to January 2009.
* A senior adviser on finance and development at the U.S. Treasury Department during the 2000-01 academic year
* A Council on Foreign Relations International Affairs Fellow under the Clinton and Bush administrations during the 2000-01 academic year