Kimberly Fenn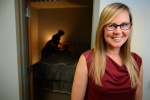 Click on the image to view a larger or high-resolution version.
Sleep and memory and learning
Associate professor
Department of Psychology
College of Social Science
Contact at: (517) 432-6258 or kfenn@msu.edu
Expertise:
An expert on the effect of sleep on learning and memory, Fenn directs the Sleep and Learning Lab in the Department of Psychology. She's studied the effect of lack of sleep on memory, the effect of fitness on memory and other issues related to memory and learning.