Katharine Thakkar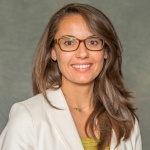 Click on the image to view a larger or high-resolution version.
Schizophrenia, bipolar disorder and mental health
Assistant professor
Department of Psychology
College of Social Science
Contact at: (517) 884 8489 or kthakkar@msu.edu
Expertise:
Her research program aims to understand the biological basis of psychotic disorders, namely schizophrenia. She uses translational methods, largely grounded in animal neurophysiology, to examine the basic building blocks of impaired cognition, disrupted social abilities, and the core disturbances in the sense of self purported to characterize psychosis.