Johanna Schuster-Craig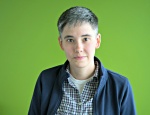 Click on the image to view a larger or high-resolution version.
Germany, international politics, Angela Merkel, Berlin Wall and German politics
Assistant professor of German
Department of Linguistics and Germanic, Slavic, Asian and African Languages
College of Arts and Letters
Contact at: (517) 355-4760 or schust66@msu.edu
Expertise:
Johanna Schuster-Craig researches German integration and migration politics. She has published articles on integration politics and youth social work organizations. Craig is currently working on a book about integration politics, the refugee crisis and the far right.