Joe Darden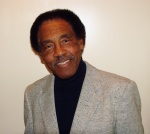 Click on the image to view a larger or high-resolution version.
Urban affairs, racial inequality and racial protests (including those in Ferguson)
Professor of geography
Department of Geography
College of Social Science
Contact at: (517) 432-1843 or jtdarden@msu.edu
Expertise:
An expert on urban residential segregation, fair housing issues and neighborhood racial/socioeconomic inequality. Darden can speak to racial and socioeconomic protests, such as those that occurred in Ferguson, Missouri, in mid-2014. He co-authored a book in 2013 titled "Detroit: Race Riots, Racial Conflicts and Effort to Bridge the Racial Divide."
Additional information:
Darden won the 2016 AAG Rose Award for Anti-Racism Research and Practice. The award was created in 2012 to honor Harold M. Rose, a pioneer in conducting research on the conditions faced by African-Americans.