Joanne Gerstner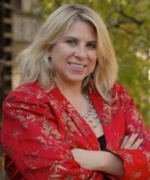 Click on the image to view a larger or high-resolution version.
Sports Journalist in Residence
School of Journalism
College of Communication Arts and Sciences
Contact at: (517) 353-6430 or joanneg@msu.edu
Expertise:
Gerstner's areas of expertise include sports neurology, youth sports and concussion protocols, and media/pop culture around concussions. She recently completed a Jacobs Fellowship in which she focused on adolescent brain development. She also did a neurology fellowship at the University of Michigan. A book she is coauthoring on youth sports and concussions is scheduled for publication in the spring of 2016.