Jennifer Carter-Johnson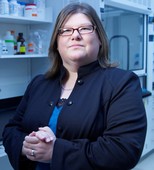 Click on the image to view a larger or high-resolution version.
Intellectual property licensing, trademark law, patent law, property law and biotechnology and the law
Assistant professor of law
Expertise:
Carter-Johnson focuses her interests on intellectual property law and policy. She combines her scientific and legal training to investigate issues at the intersection of biological research and the law. Carter-Johnson joined Michigan State University College of Law in fall 2010. Prior to that, she practiced law in Seattle, specializing in intellectual property licensing and representation of biotechnology companies. A member of the Washington State Bar, she is registered to practice before the U.S. Patent and Trademark Office. Carter-Johnson holds a doctorate in microbiology.