Jeff Wray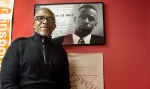 Click on the image to view a larger or high-resolution version.
Film, race and black cinema
Associate professor of film studies and African American literature and culture
Department of English
College of Arts and Letters
Contact at: (517) 884-4442 or wrayj@msu.edu
Expertise:
In addition to teaching film studies, Jeff Wray is a filmmaker, focusing on black cinema. He is an expert on race issues and portrayal in films, as well as the lack of race diversity in Hollywood.