Jeff Grabill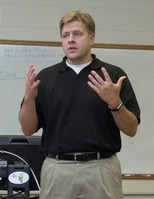 Click on the image to view a larger or high-resolution version.
Digital rhetoric, technical writing and composition
Professor of writing, rhetoric and American cultures
Department of Writing, Rhetoric and American Cultures
College of Arts and Letters
Contact at: (517) 353-9164 or grabill@msu.edu
Expertise:
An expert in composition, technical writing, digital rhetoric and professional writing, Grabill is co-director of the Writing in Digital Environments Research Center. His research is located at the intersection of professional and technical writing, rhetorical theory and literacy theory, and focuses on the literate and technological practices of citizens, users, students, and others within communities and non-academic institutions.