James Hancock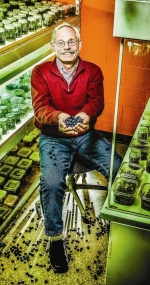 Click on the image to view a larger or high-resolution version.
Blueberries, strawberries and breeding
Professor of Horticulture
Horticulture
College of Agriculture and Natural Resources
Contact at: (517) 355-5191 Ext. 1387 or hancock@msu.edu
Expertise:
James Hancock is a professor of horticulture in the College of Agriculture and Natural Resources and MSU AgBioResearch expert blueberry breeder. Hancock's innovations regarding these varieties of Northern Highbush blueberries represent highly productive means of generating flavorful and long-lasting blueberries. Approximately 20 million plants of these four varieties have been sold. Michigan has been the No. 1 blueberry-producing state for the last 70 years, partly due to the Hancock varieties.
Additional information:
He has released four of the most-popular Northern Highbush blueberry varieties in the world: Draper, Liberty, Aurora and Huron.

His varieties have generated $6 million in royalties for MSU since 2003.