Erica Frantz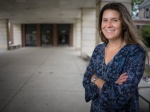 Click on the image to view a larger or high-resolution version.
Dictators, autocratic rule, authoritarian rule and democratization
Assistant professor
Department of Political Science
College of Social Science
Contact at: (517) 353-3280 or frantzer@msu.edu
Expertise:
Frantz's research and teaching interests include authoritarian politics, democratization, conflict and development. She is particularly interested in the security and policy implications of autocratic rule. She has published four books on dictatorships and development, as well as articles in journals such as Perspectives on Politics, British Journal of Political Science, Journal of Peace Research and Annual Review of Political Science.