Zhiyong Xi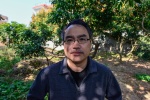 Click on the image to view a larger or high-resolution version.
Dengue Fever, Zika and mosquitoes
Associate Professor
Microbiology and Molecular Genetics
College of Natural Science
Contact at: (517) 432-7506 or xizy@msu.edu
Expertise:
Thanks to Zhiyong Xi's work with mosquitoes and Wolbachia bacteria, researchers are closer than ever to eradicating this devastating disease. "My long-term goal is to develop control strategies to block dengue virus transmission in mosquitoes," says Xi, assistant professor of microbiology and molecular genetics and director of the Sun Yat-sen University–Michigan State University Joint Center of Vector Control for Tropical Diseases. "In nature, about 28 percent of mosquito species harbor Wolbachia bacteria, but the mosquitoes that are the primary transmitters of dengue have no Wolbachia in them. We found that Wolbachia is able to stop the dengue virus from replicating. If there is no virus in the mosquito, it can't spread to people, so disease transmission can be blocked."
Additional information:
Zhiyong Xi is available to discuss the dengue fever outbreak in China, in which nearly 30,000 people are infected.