Hayder Radha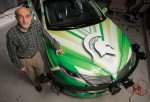 Click on the image to view a larger or high-resolution version.
Autonomous vehicles
Professor and asociate chair for research
College of Engineering
Electrical and Computer Engineering
Contact at: (517) 432-9958 or radha@egr.msu.edu
Expertise:
An expert in autonomous vehicle research. Radha also researches coding and communications; image and video compression; image processing; multimedia communications over packet networks; video coding and communications over the internet and wireless networks; modeling and analysis of the stochastic behavior of communication networks; wavelet, subband, and multiresolution coding.