Gary Hoppenstand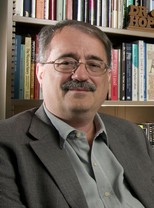 Click on the image to view a larger or high-resolution version.
Literature, popular culture, film, American studies and fantasy fiction
Professor and associate dean of undergraduate academic affairs
English,
College of Arts and Letters
Contact at: (517) 355-5229 or hoppens2@msu.edu
Expertise:
Gary Hoppenstand is an expert in American studies, popular culture studies and film studies. President of the national Popular Culture Association and editor-in-chief of the Journal of Popular Culture, he has published more than 40 refereed articles in scholarly journals and as book chapters. Hoppenstand has also completed work on seven critical editions of famous adventure novels for the Signet Classic and Penguin Classics lines and is currently writing a book-length history of popular fiction for Oxford University Press.