Frank Ochberg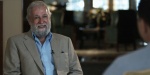 Click on the image to view a larger or high-resolution version.
Post-traumatic stress disorder (PTSD), Stockholm Syndrome, effects of violence and trauma, spousal abuse, sexual abuse and military PTSD
Clinical professor of psychiatry
Expertise:
Ochberg, a psychiatrist, is a renowned expert on post-traumatic stress disorder, Stockholm Syndrome, the effects of violence and trauma on women, spousal abuse, military PTSD and journalists who cover traumatic events. He has a medical degree from Johns Hopkins University and previously served in the administrations of the National Institute of Mental Health and the Michigan Department of Mental Health.