Folu Ogundimu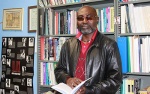 Click on the image to view a larger or high-resolution version.
Associate Professor
School of Journalism
College of Communication Arts and Sciences
Contact at: (517) 353-6459 or ogundimu@msu.edu
Expertise:
Dr. Ogundimu's areas of research expertise include public health communications, comparative and international communications, media, governance and democracy.
Additional information:
Dr. Ogundimu's latest project is participation in a World Health Organization polio vaccination program in Nigeria.