Eva Kassens-Noor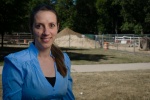 Click on the image to view a larger or high-resolution version.
Kassens-Noor is the author of "Planning Olympic Legacies."
Assistant professor
School of Planning, Design and Construction
Agriculture and Natural Resources
Contact at: (517) 432-8085 or ekn@msu.edu
Expertise:
Eva Kassens-Noor is an assistant professor of urban and transport planning who has written a book, "Planning Olympic Legacies." It features six cities that have hosted or that will soon host the Olympic Games and focuses on the legacy projects, urban-planning initiatives unveiled especially for the games yet provide the city benefits well after the Olympians have left. While London did well with this year's Olympics, Athens struggled and showed early signs of economic distress.