David Foran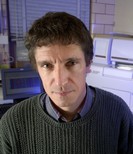 Click on the image to view a larger or high-resolution version.
Forensic biology
Director of MSU's Forensic Science Program, associate professor of forensic science
School of Criminal Justice; Department of Zoology
College of Social Science; College of Natural Science
Contact at: (517) 432-5439 or foran@msu.edu
Expertise:
An expert in DNA identification of individuals and species; identifying DNA from explosive devices; forensic science; forensic biology; wildlife forensics; genetic identification of individuals and species; DNA isolation from tissues, body fluids/stains, hair, bone, etc.; Court-qualified expert in forensic biology, including DNA analysis (nuclear and mitochondrial) and serology.