David Closs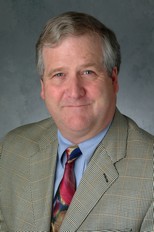 Click on the image to view a larger or high-resolution version.
Logistics strategy, inventory/forecasting management, computer decision support systems and management information systems
The John H. McConnell Chair in Business Administration; professor of marketing and supply chain management
Department of Marketing and Supply Chain Management
The Eli Broad College of Business
Contact at: (517) 432-6406 or closs@msu.edu
Expertise:
An expert in the development and application of computer models and information systems for logistics operations and planning. His primary research interests include supply chain strategy, information systems, security and planning techniques.