Cliff Broman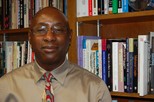 Click on the image to view a larger or high-resolution version.
Substance abuse, drinking among youth and race and ethnicity
Professor of sociology
Department of Sociology
College of Social Science
Contact at: (517) 355-1761
Expertise:
An expert in substance abuse, drinking among youth and college students, mental health and stress, race and ethnicity, and family studies. Broman is the author of the book "Stress and Distress among the Unemployed: Hard Times and Vulnerable People."