Chris Frilingos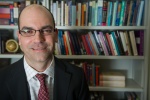 Click on the image to view a larger or high-resolution version.
Christianity, Bible and New Testament
Religious Studies
College of Arts and Letters
Contact at: (517) 432-0062 or frilingo@msu.edu
Expertise:
Chris Frilingos is a scholar of early Christianity and and Roman culture, and he can discuss the principles of Judaism and paganism. Frilingos recently conducted a study on the Revelation, the final book of the New Testament, as a central text for exploring life under the Roman emperors. He's now researching ancient Christian stories about Jesus and Mary as children, the so-called Infancy Gospels, such as the Infancy Gospel of Thomas and the Infancy Gospel of James.