Chris Adami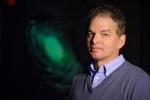 Click on the image to view a larger or high-resolution version.
Evolution, artificial life, black holes, information theory and computational biology
Professor
Microbiology and Molecular Genetics, Physics and Astronomy, BEACON Center for the Study of Evolution in Action
College of Natural Science
Website: http://adami.natsci.msu.edu/
Contact at: (517) 884-5068 or adami@msu.edu
Expertise:
Chris Adami is a theoretical physicist working at the intersection of physics and life sciences. He is a computational biologist with a focus on Darwinian evolution, studying how biological systems evolve from the simplest molecules to the most complex structures such as the human brain. In addition, he conducts research into black holes, investigating the foundations of quantum mechanics and quantum information theory.