Bruce Dale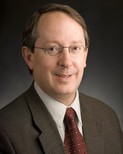 Click on the image to view a larger or high-resolution version.
Biotechnology, biofuels and energy
Professor of chemical engineering and materials science
Department of Chemical Engineering and Materials Science
College of Engineering
Contact at: (517) 353-6777 or bdale@egr.msu.edu
Expertise:
An international expert in biofuels, specifically ethanol. He can discuss alternatives to fossil fuels, and the conversion of plant biomass – like corn and fast-growing switchgrass – into energy. Specific expertise on questions of net energy of biofuels, environmental sustainability of biofuels and integration of biofuels with food and animal feed systems.