Brooke Ingersoll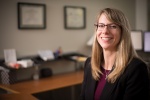 Click on the image to view a larger or high-resolution version.
Autism and autism spectrum disorder
Associate professor
Department of Psychology
College of Social Science
Contact at: (517) 432-8412 or ingers19@msu.edu
Expertise:
Her research focuses on the development, evaluation and dissemination of social communication interventions for people with autism. She also conducts research on the impact of autism spectrum disorder on the family and the broader autism phenotype. A major emphasis of her current work is on the development of community-focused, parent-mediated interventions for young children with ASD.
Additional information:
Ingersoll, a licensed psychologist, is director of the Autism Research Lab at MSU.