Brendan Cantwell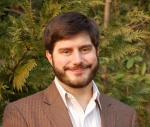 Click on the image to view a larger or high-resolution version.
Higher education, academic rankings and higher education governance and policy
Assistant professor
Department of Educational Administration
College of Education
Contact at: (517) 355-1833 or brendanc@msu.edu
Expertise:
Cantwell's research and teaching interests focus on higher education organization, governance and policy, with particular interests in comparative education, political economy and theory. In recent projects he has addressed the internationalization and globalization of higher education, changes in higher education and research policy in the United States and Europe, and new forms of academic labor.