April Zeoli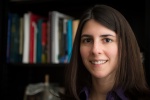 Click on the image to view a larger or high-resolution version.
Domestic violence, crime, homicide, gun control and connection between public health and violence
Associate Professor
Criminal Justice
College of Social Science
Contact at: (517) 353-9554 or zeoli@msu.edu
Expertise:
In her research, Zeoli uses public health methods and models to increase the understanding of violence and homicide. Her main field of investigation is the prevention of intimate partner violence and homicide through public health policy. She also is an expert on gun control legislation for those accused of domestic violence.