Andrea K. Wittenborn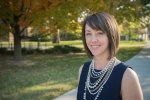 Click on the image to view a larger or high-resolution version.
Depression and couple therapy
Associate professor
Department of Human Development and Family Studies
College of Social Science
Contact at: 517-432-2263 or andreaw@msu.edu
Expertise:
An expert in developing and evaluating treatment for depression, as well as testing methods of personalizing treatment to fit the needs of a given patient. She can discuss depression among men as well as couple therapy and depression.