Amy Jamison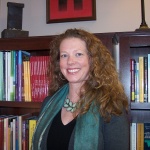 Click on the image to view a larger or high-resolution version.
Gender, African higher education, educational policy in Africa and women's studies
Interim co-director for international research and engagement
Expertise:
Amy Jamison has been involved with major grant and research projects in a number of African countries, including Malawi, Rwanda, Tanzania, South Africa, Senegal, Burkina Faso and Mali. Her research focuses broadly on African higher education development, educational policy in Africa, gender issues in higher education and gender in international development.