Amy Iezzoni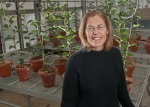 Click on the image to view a larger or high-resolution version.
Tart cherries, cherry trees and plant breeding and genetics
Professor of Horticulture
Horticulture
College of Agriculture and Natural Resources
Contact at: (517) 355-5191, Ext.1391 or iezzoni@msu.edu
Expertise:
Amy Iezzoni is the only tart cherry breeder in the U.S., and she's passionate about her mission. For more than 30 years, she's been researching plant breeding and genetics as well as traveling the world to collect and study many types of cherry trees.
Additional information:
Plant breeding and genetics
Heads the RosBREED project, aiming to combine emerging DNA sequence and research findings to improve the quality of apples, peaches, cherries and strawberries.