Amy Bonomi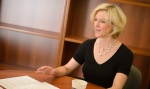 Click on the image to view a larger or high-resolution version.
Domestic violence, dating violence, the dynamics of violent relationships and "FIfty Shades of Grey"
Chair and professor
Department of Human Development and Family Studies
College of Social Science
Contact at: 517-355-0230 or bonomi@msu.edu
Expertise:
An expert on domestic violence, dating violence, the health effects of intimate partner violence and the intimacy dynamics that keep violent relationships intact. Bonomi's research has explored dating abuse in the Internet age, how the "Fifty Shades of Grey" books perpetuate violence against women and the connection of gun ownership to domestic abuse. She writes a blog for Huffington Post and her research has been featured in USA Today, MSNBC, New York Daily News, Cosmopolitan and other major media outlets.