Adrian Blow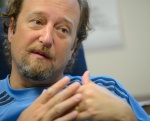 Click on the image to view a larger or high-resolution version.
Military families, marriage and family therapy, reintegration of citizen-soldiers, eating disorders and international adoptions
Associate professor
Department of Human Development and Family Studies
College of Social Science
Contact at: (517) 432-7092 or blowa@msu.edu
Expertise:
An expert in how citizen-soldiers and their families cope with the effects of war after deployment. Blow has worked with the Michigan National Guard since about 2006 to help military families in the transition from battlefield to civilian life. Blow, a South African native, also can speak to the effect on families of eating disorders, infidelity and international adoption.