Adam Candeub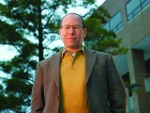 Click on the image to view a larger or high-resolution version.
Intellectual property, communications law and criminal law
Director of the Intellectual Property, Information and Comunications Law Program
Expertise:
Before coming to the MSU College of Law, Adam Candeub was an attorney-adviser for the Federal Communications Commission. He's an expert in communications law and intellectual propery law.