Tomas Hult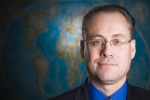 Click on the image to view a larger or high-resolution version.
Euro zone, euro, currency, global strategy, exporting, importing, marketing strategy, supply chain management and public policy
Director
International Business Center
Broad College of Business
Contact at: (517) 353-4336 or Hult@bus.msu.edu
Expertise:
As director of MSU's International Business Center, Tomas Hult is an expert on global economy, international trade and business development. He is one of the world's leading authorities on the intersection of international business and supply chain management. Hult can discuss international currency, such as the euro, and the global effects of financial instability in key countries such as Greece, Spain and other European countries using the euro.