Rodney Whitaker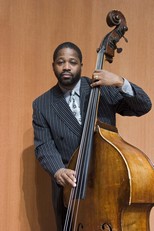 Click on the image to view a larger or high-resolution version.
Jazz studies, music performance and double bass
Director of jazz studies and professor of double bass
Jazz Studies Program
College of Music
Contact at: (517) 432-2194 or whitak22@msu.edu
Expertise:
An expert in jazz studies, Whitaker has presented numerous master classes across the nation at locations such as Duke University, Howard University, the University of Iowa, the University of Michigan, the New School (N.Y.), Lincoln Center and the Ford Detroit Jazz Festival. In addition, he is a consultant with the Detroit Symphony Orchestra in the development of a jazz education department, and has served on the faculties of University of Michigan and Juilliard Institute of Jazz. He is a member of the Lincoln Center Jazz Orchestra. In addition, he has appeared and presented master classes at the International Association of Jazz Educators (IAJE) conferences.