Richard Lenski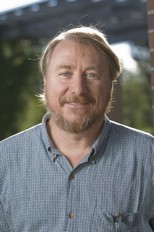 Click on the image to view a larger or high-resolution version.
Evolutionary biology
Hannah Distinguished Professor of microbial ecology
Ecology Evolutionary Biology and Behavior; Department of Plant, Soil and Microbial Sciences; Microbiology and Molecular Genetics
College of Agriculture and Natural Resources; College of Natural Science
Website: http://www.msu.edu/~lenski/
Contact at: (517) 884-5397 or lenski@msu.edu
Expertise:
An expert in the ecological processes and genetic mechanisms that cause evolutionary change. Studies microorganisms in order to test evolutionary hypotheses by direct experimentation. Also looks at the evolution of artificial life, in the form of self-replicating computer programs that mutate at random, compete for CPU time and, thereby, adapt by natural selection to become faster and more efficient replicators.