Patricia Edwards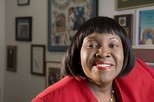 Click on the image to view a larger or high-resolution version.
Literacy, writing/reading, parent involvement in education and parent-teacher conferences
Professor of teacher education and literacy
Department of Teacher Education
College of Education
Contact at: (517) 432-0858 or edwards6@msu.edu
Expertise:
An expert in literacy, including early literacy, family literarcy, technology and literacy, diversty issues in literacy and literacy among immigrants. She has developed two nationally acclaimed family literacy programs: "Parents as Partners in Reading" and "Talking Your Way to Literacy." Edwards will serve as president-elect of the International Reading Association in 2009-10 and president in 2010-11.