Michael Colaresi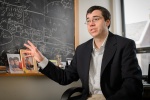 Click on the image to view a larger or high-resolution version.
Civil wars and democracy and international conflicts
Professor
Department of Political Science
College of Social Science
Contact at: 517-353-3281 or colaresi@msu.edu
Expertise:
An expert on war, civil war, international conflicts and security, the dynamics of conflict between rival countries and democracy following conflict. His current projects explore the tension between national security-related secrecy and democratic accountability, the variation in legislative oversight on national security issues across democracies, the institutional causes of genocide and state failure, the statistical analysis of text, and the application of time series methodology to non-continuous data.