Melissa Baumann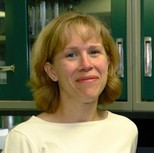 Click on the image to view a larger or high-resolution version.
Bone and tissue engineering
Associate professor of chemical engineering and materials science
Department of Chemical Engineering and Materials Science
College of Engineering
Contact at: (517) 432-1243 or mbaumann@egr.msu.edu
Expertise:
An expert in bone and tissue engineering. Research focus is on "growing bone" on ceramic scaffolding, with the hope of one day providing lab-engineered bone for grafting. Also, currently researching alternative metals for hip and knee replacements as well as nanoceramic coatings for improved water filtration.