John Seita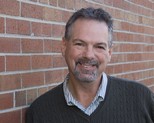 Click on the image to view a larger or high-resolution version.
Foster care
Associate professor of social work
School of Social Work
College of Social Science (joint appointment with Michigan Agricultural Experiment Station and MSU Extension)
Contact at: (517) 355-3291 or seita@msu.edu
Expertise:
An expert on the foster care system and the process and problems associated with "aging out" of the system. Also, foster care leadership. Seita is a former ward of the Michigan foster care system.