Jeff Charnley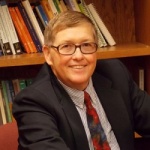 Click on the image to view a larger or high-resolution version.
Oral and military history, human conflict and commemoration
Associate professor of writing, rhetoric and American cultures
Expertise:
An expert in oral and military history. He leads a popular Study Abroad program, "The United States and World War II Europe: Memory and Memorials," which takes students to the United Kingdom, France, Luxembourg, Belgium and Germany and addresses moral issues and human conflict as well as the relationships between history, memory and commemoration.